At a meeting of its Court on 17 October 2023, Trinity House swore in three new Elder Brethren. Captain Fran Collins, Commodore Duncan Lamb and Rear Admiral Iain Lower joined the Court, the maritime corporation's uppermost level of governance.
Captain Fran Collins MNM
Fran joined Red Funnel as CEO in June 2018, having spent over 20 years in the Merchant Navy.
Fran's career as a seafarer started with a dual cadetship at South Tyneside College sponsored by Shell Shipping, qualifying in 1997 with both Deck and Engineer (Steam & Motor) licences.
In 2008, Fran transferred into shore-based management and since then has continued to develop her career through several executive roles that have included operational management, business leadership and the delivery of major strategic projects, several of which involved significant and extensive stakeholder management.
Alongside her role as CEO at Red Funnel, Fran also provides support to Saga Cruises as a Non-Executive Director as well as being an active member of a number of industry bodies at a strategic level, including the Department for Transport's Clean Maritime Council and the Isle of Wight's Chamber of Commerce.
In November 2019, Fran received the Merchant Navy Medal for her contribution to the shipping industry.
Commodore Duncan Lamb CMMar AFNI RFA (Retd.)
Duncan retired as Head of Service for the Royal Fleet Auxiliary (COMRFA) in October 2020. In this role he was responsible for the safe operation of the flotilla and the recruitment, training and management of 1,900 UK civilian mariners.
As part of the Royal Navy's senior management, he was the Senior Responsible Owner for replacement fleet tankers, a £560 million project within the Government's Major Programme Portfolio that delivered four ships into service during 2016-19. He was involved in a comprehensive personnel change programme for the RFA that he then delivered as COMRFA. An advocate for diversity and inclusion, he was an early signatory to Maritime UK's Women in Maritime initiatives and senior ethnicity champion for Navy Command HQ.
Since retiring, he remains professionally active and is a Warden of the Honourable Company of Master Mariners (HCMM) and an advisor for the RNRM Charity. He chairs the Chartered Master Mariner Registration Authority, which governs Chartership on behalf of HCMM and the Nautical Institute.
Rear Admiral Iain Lower CB MA AFNI
Following the announcement by Trinity House in September that Rear Admiral Iain Lower had been nominated to succeed Captain Ian McNaught in February 2024 as the Deputy Master of the Corporation and Chief Executive Officer of the General Lighthouse Authority, he was sworn in as an Elder Brother in advance of February's Court meeting.
Iain joins Trinity House from the Commonwealth War Graves Commission following a distinguished career in the Royal Navy.
On promotion to Rear Admiral, Iain became the Royal Navy's Director of Strategy, Policy, and External Affairs. An executive member of the Navy Board, he was responsible for strategic planning, policy alignment, international liaison, reputation management and public affairs including relations across Whitehall, think-tanks, academia, and the maritime sector.
At the Commonwealth War Graves Commission, as the Director of Strategy, Communications & Commonwealth Affairs, he led the development and implementation of the new organisational strategy. Iain is also a trustee of The Seafarers' Charity.
Welcoming the new members to the Court, Deputy Master Captain Ian McNaught said:
"I am pleased that we are able to build upon the Court's strengths with the experience and intellect that Fran, Duncan and Iain bring as new members. The Court oversees the Lighthouse Board and the Corporate Board, and so it is important to us that we bring fresh new perspectives and insights to the table, to ensure that we are operating at our best when we provide our best-in-class safety at sea and maritime welfare and training services.
"I look forward to working with them, and wish to express my gratitude to them for joining our organisation."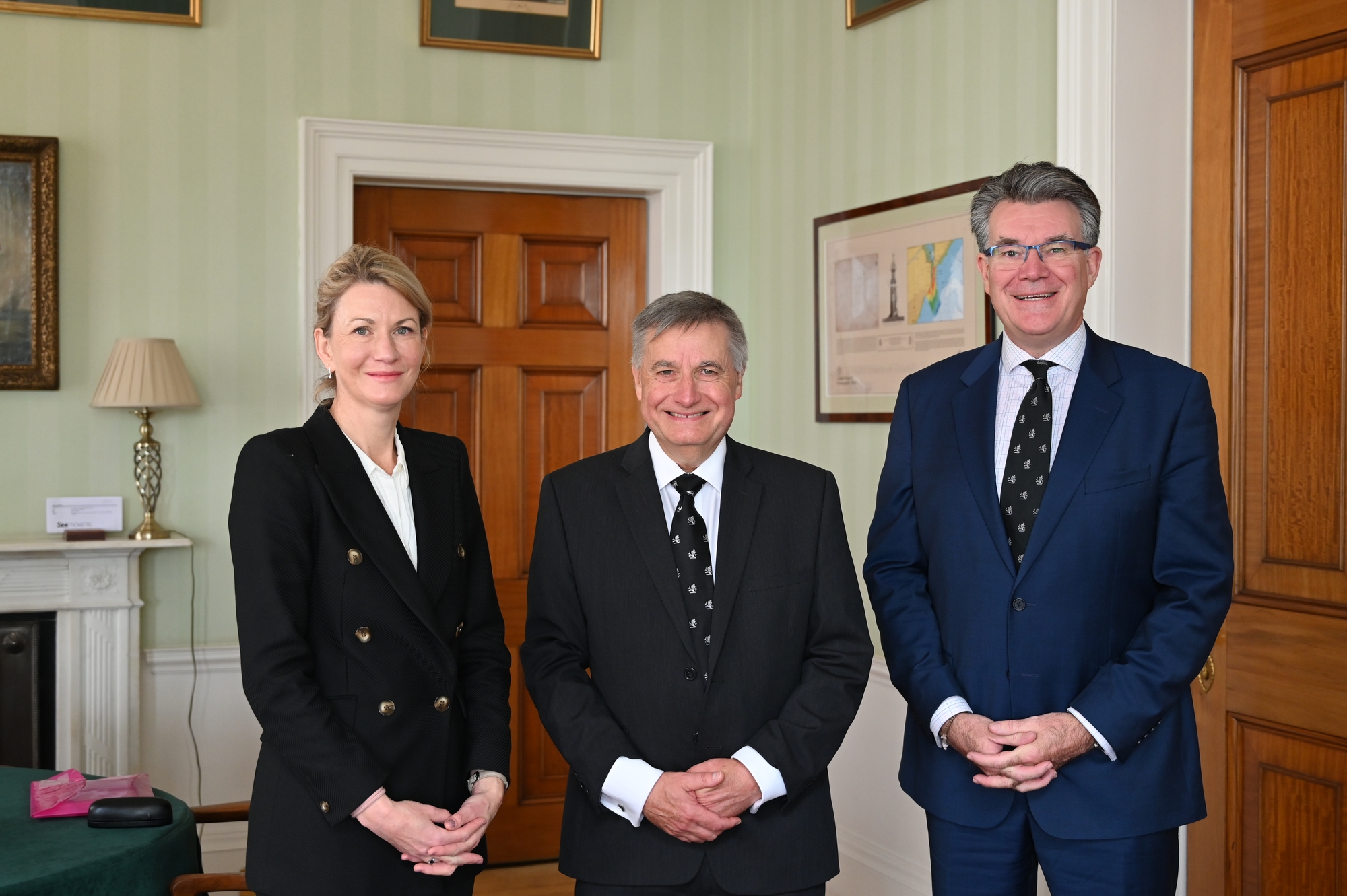 Left to right: Captain Fran Collins, Commodore Duncan Lamb and Rear Admiral Iain Lower


---

Trinity House is a charity dedicated to safeguarding shipping and seafarers, providing education, support and welfare to the seafaring community with a statutory duty as a General Lighthouse Authority to deliver a reliable, efficient and cost-effective aids to navigation service for the benefit and safety of all mariners.
---

For further information please contact:
Neil Jones, Communications Manager