The UK has a target of slashing emissions by 78% by 2035, and reaching net zero emissions by 2050. This target relies on 40GW of offshore wind by 2030 which will require 30GW of capacity to be commissioned during 2020's – three times as much as that installed during the 2010s.
The UK has large potential resources being ranked as the world's sixth largest producer of wind power. The East of England is the powerhouse of offshore wind having more installed offshore wind capacity than any other part of the UK and is currently home to over 52% of the UKs installed capacity for offshore wind. The shallow waters and fresh winds make this the ideal location. As the amount of wind farms increases, so will the requirement to mark them and ensure the safety of the mariner. Trinity House, with its main depot in Harwich, Essex, is perfectly located to support this sector.
Trinity House have supported the renewable energy sector with provision of AtoN's for marking offshore wind farms since 2006 supplying and deploying demarcation buoys around the perimeter of sites during the critical construction phase thus indicating to the mariner where navigable water is and highlighting that there is a special area or feature.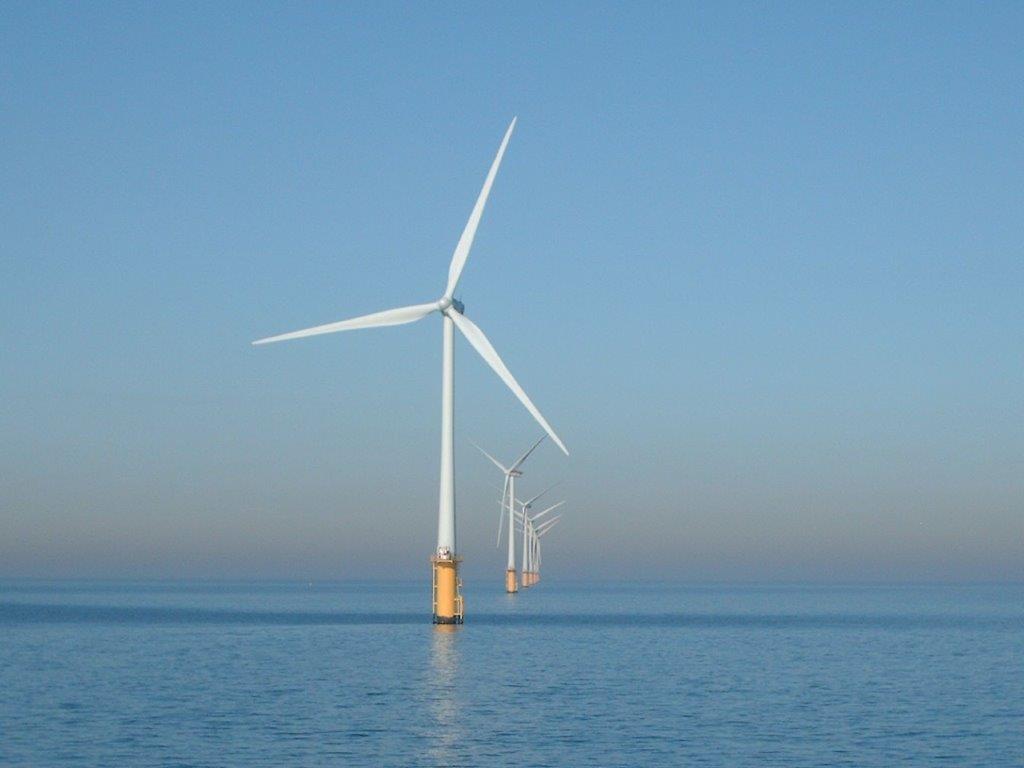 London Array Wind Farm taken by THV Galatea
Trinity House assets have been on tour at offshore wind farms from 2006 and our ships and competent crews have been instrumental in deploying third party buoys. The extent our involvement is captured in our tour programme -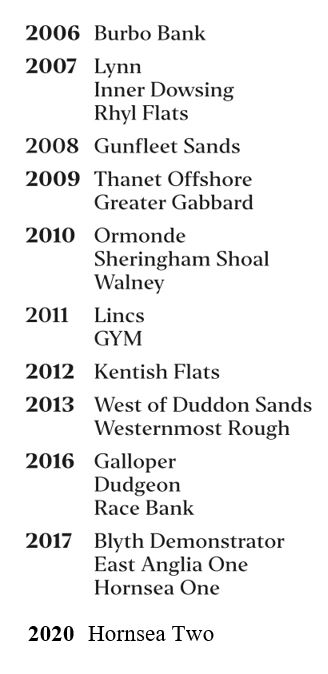 Buoys are prepared at one of our strategic buoy yards - at Harwich in Essex and Swansea, South Wales. The Harwich and Swansea bases encompass berths for our vessels. Alongside the dock areas are buoy refurbishment / beacon fabrication facilities. Activities include high pressure water jetting, grit-blasting and painting, assembly, LED lantern testing, battery conditioning; and ferrous and non-ferrous welding by qualified welders.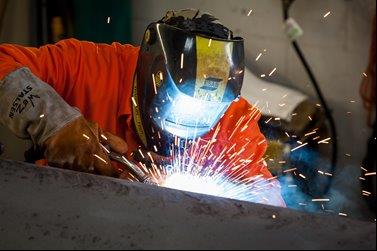 Welder repairing a tail tube at Trinity House, Harwich
Demarcation buoys at Offshore Wind Farms can be:
Cardinal Marks – indicate that the deepest water in the area lies to the named side of the mark. Cardinal marks do not have a distinctive shape but are normally pillar or spare. They are always painted in yellow and black bands and their distinctive double cone top-marks are always black. Cardinal marks have a special system of flashing white lights that can be VQ (very quick) or Q (quick).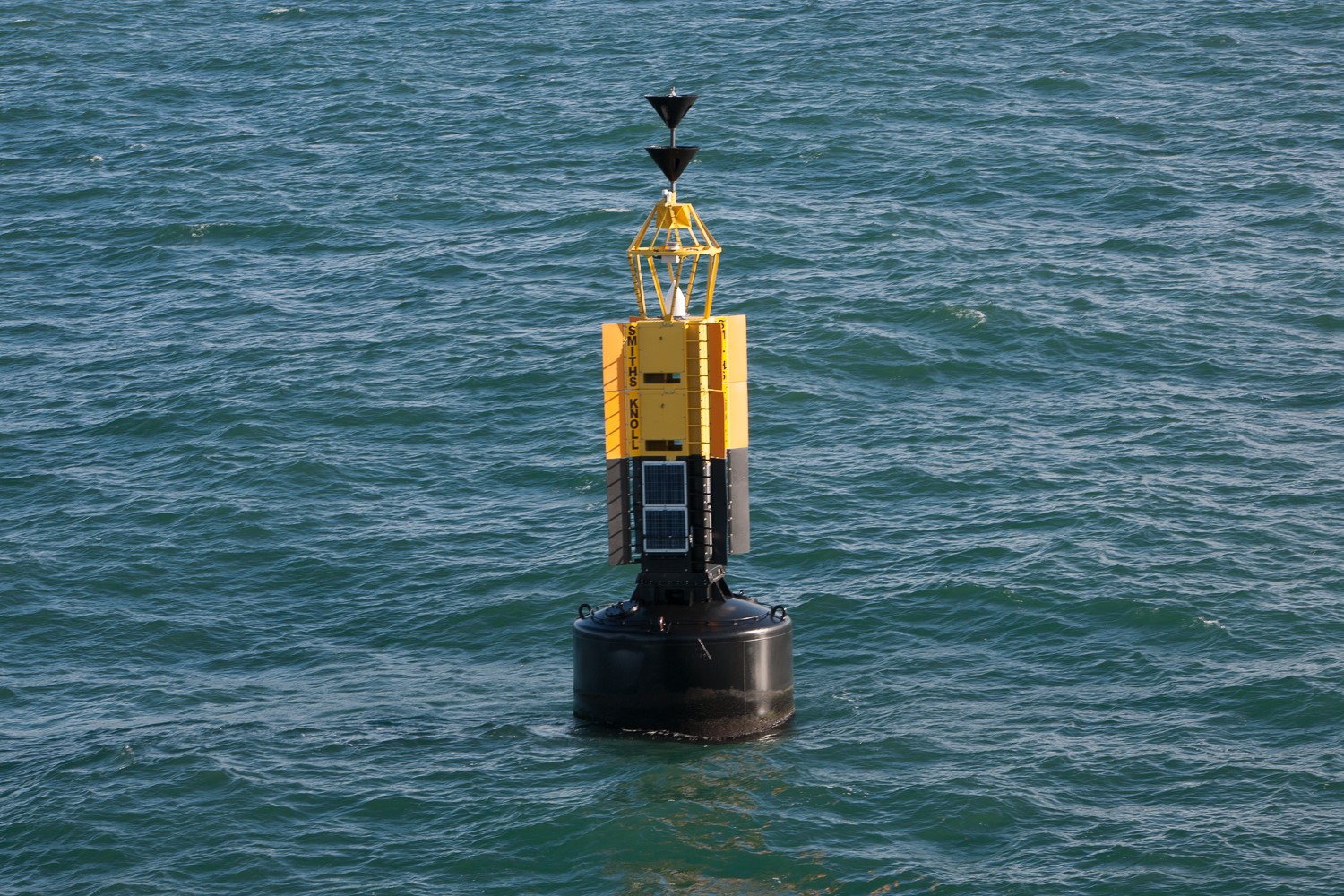 South Cardinal buoy having just been deployed
Special Marks are used to indicate a special area or feature whose nature may be apparent from reference to a chart. Special marks are yellow and may carry a yellow X top-mark and any light used is also yellow. Yellow lights for special marks do not have any of the rhythms used for white lights.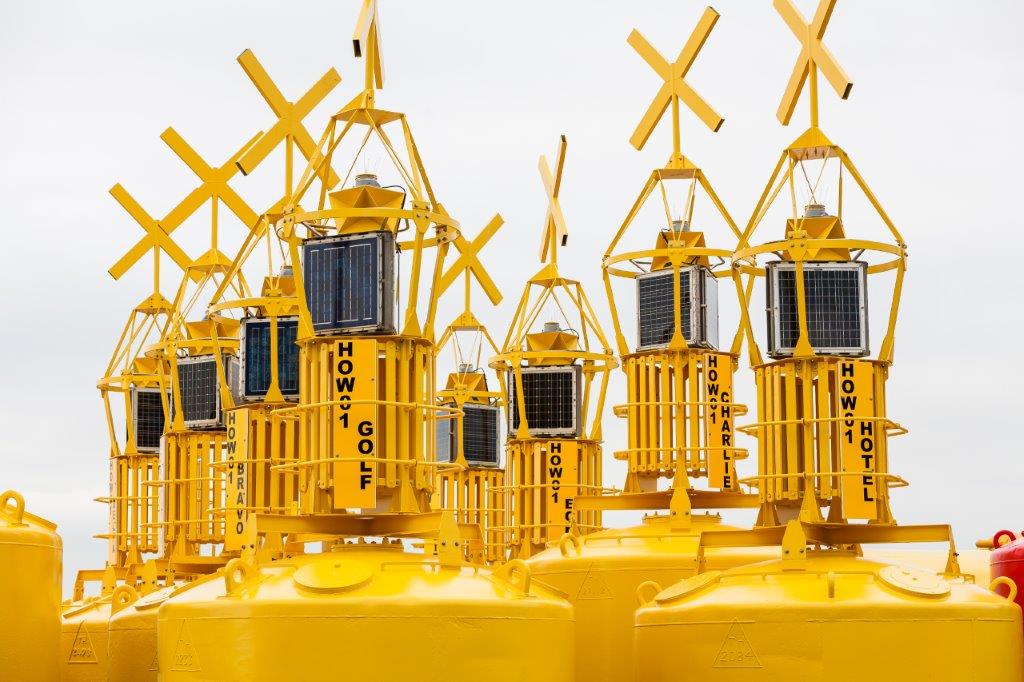 Special Mark buoy prepared and ready for deployment at Hornsea One
Our at-sea assets are tried and tested to withstand the demands of offshore locations. Our Marine Superintendent is a Master Mariner 3000 L.E.A, Deputy DPA and Company Security Officer. She will use her vast experience to advice on suitable moorings taking account of water depth, location, composition of the seabed and tidal conditions.
Trinity House operates 3 vessels, THV Galatea, THV Patricia and THV Alert which are strategically placed around the coasts of England, Wales and the Channels Islands in order to undertake both our own statutory work and emergency response but also that of our customers.
For the offshore wind farms our purpose built 80 metre buoy handling tenders - THV Galatea and THV Patricia, are utilised. THV Galatea is an 84m DP2 Multi Functional Tender with a 30 tonne crane capacity; THV Patricia is an 86m DP capable Multi Functional Tender with a 20 tonne crane capacity.
Trinity House has found through its experience that adoption of a regime of regular planned maintenance this significantly increases the reliability of aids to navigation. As such we undertake an annual maintenance visit to all our rental buoys during which the buoy and entire mooring system including the sinker will be lifted on to the deck where a complete examination will take place including checks to ensure that:
the lantern is showing the correct characteristics and flashing sequences;
the buoy is in its correct assigned position for the Station;
power generating equipment has sufficient capacity to run the light until the next scheduled maintenance visit.
moorings are of a standard sufficient to allow the buoy to remain on station until the next scheduled maintenance visit.
The buoy will be cleaned, waterjetted and cleared of marine growth before being re-established in its assigned position and confirmed using DGPS.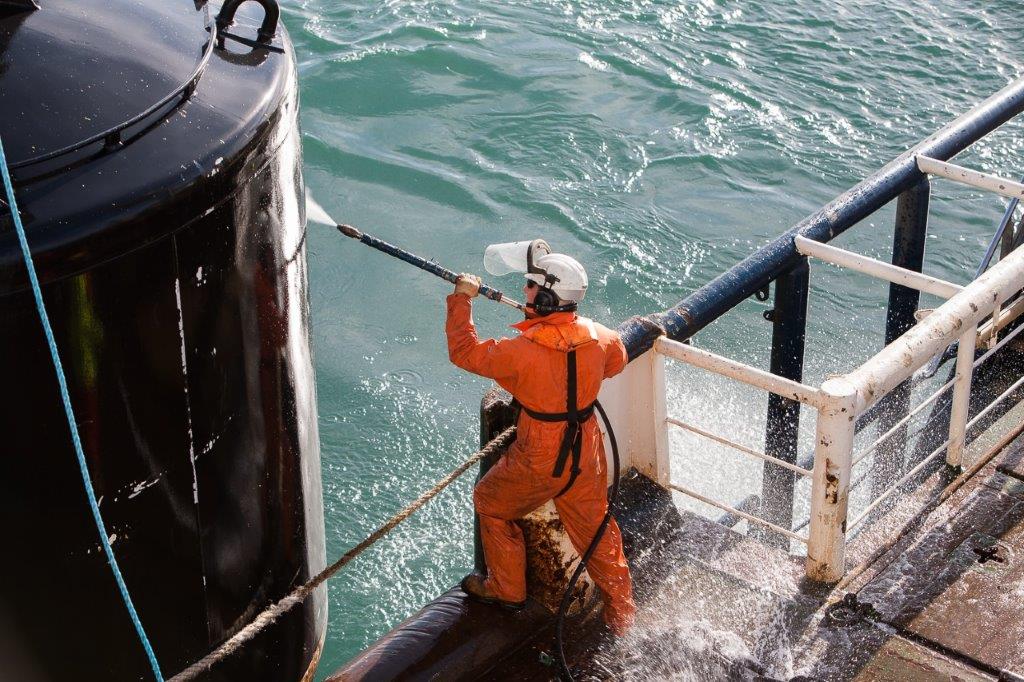 Buoy being jetwashed to clear marine growth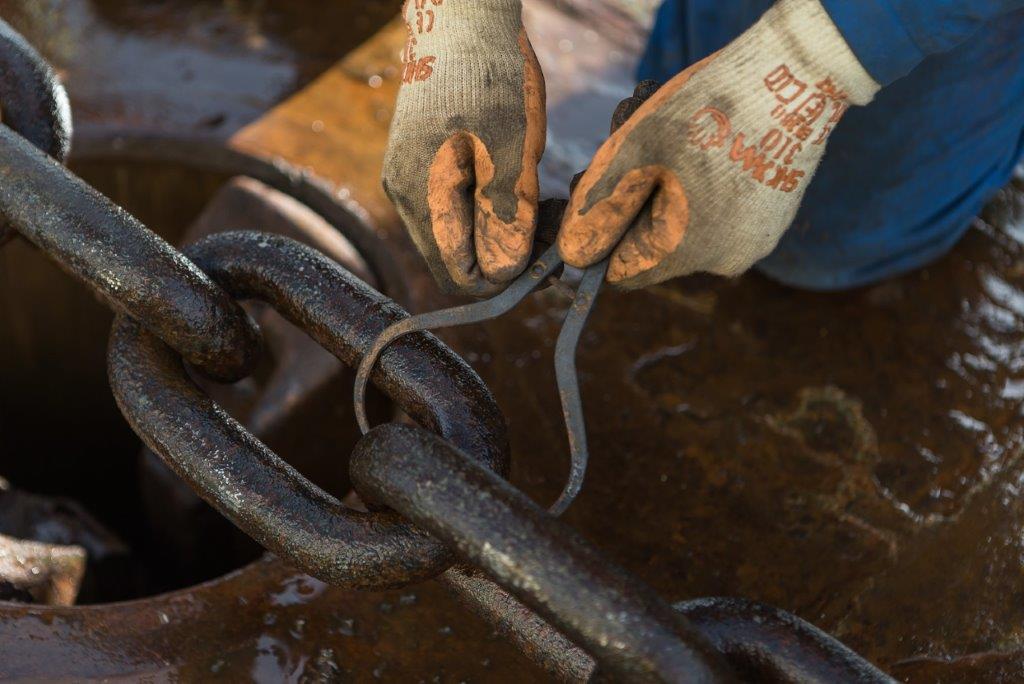 Wear being checked to ensure sufficient to withstand a further 12 months on station
Failures do still happen sometimes through factors such as stress of weather, acts of vandalism or collision damage. Once a casualty is reported to the 24hr/365day per year Operations Planning Centre based in Harwich Essex, a broadcast is undertaken to inform the mariner of the casualty to ensure awareness of any associated danger. The Operations Officer would then assess the casualty to define best method of attendance.
TH was incorporated by Royal Charter in 1514, we have over 500 years' experience as a General Lighthouse Authority providing and maintaining Aids to Navigation; this work is our core business. Our turn-key buoy rental service for the Offshore Wind and renewables industry includes provision, installation, casualty intervention and discontinuation of AtoNs eliminating all stress for our customers and allowing them to focus on the larger project.
But it doesn't end there…………..
THV Galatea is an ideal vessel to undertake generator work on wind farms. She has previously been chartered to remove and replace generators from the lower platforms of wind turbines after the completion of construction and has capacity for approx. 50 generators on deck (with pods in place)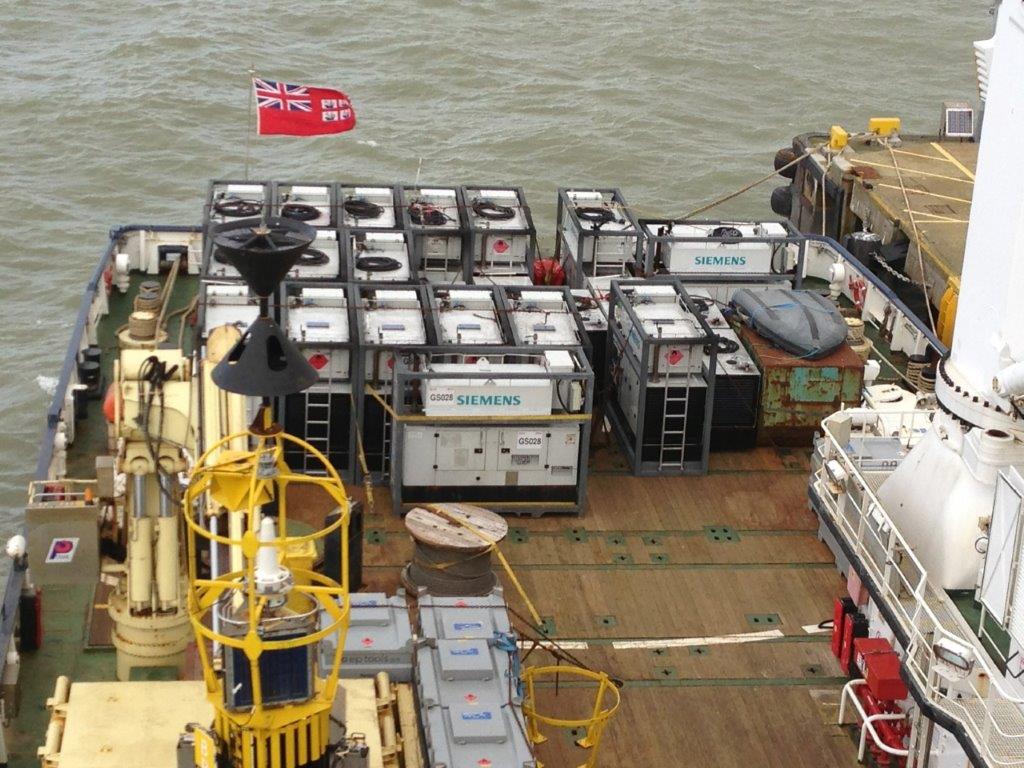 Generators on deck of THV Galatea
Generators being discharged at Ramsgate
The vessel's DP2 system was used for the manoeuvring and positioning of the ship for the operation, with DP2 Class requirements in force at all times. The DP2 system is used daily for the movement and positioning of the ship for standard service operations. All qualified DP operators have practical experience of manoeuvring the vessel in close proximity to offshore structures, both floating and fixed.
The complexity of this operation imposed strict operating limits with the limiting factors being tidal stream, wind and significant wave height which could all affect the station keeping abilities of the DP system and load steadiness ,
During operations the ship was orientated with its Port side to each tower in order to maximise crane reach and allow the loads to be lifted. At MLWS, the vessel's minimum lateral separation from the platform was 14.5m to allow the crane to reach the load.
Trials conducted near to LW showed that the vessel would have to be at around 10m from the base of the tower in order for the crane to get the lift required to clear the load from the platform.
In order for the crane operator to closely monitor the boom in relation to the tower when plumbed over the platform, the ship was orientated with the platform parallel fwd or aft of the tower, see below (platform shown fwd):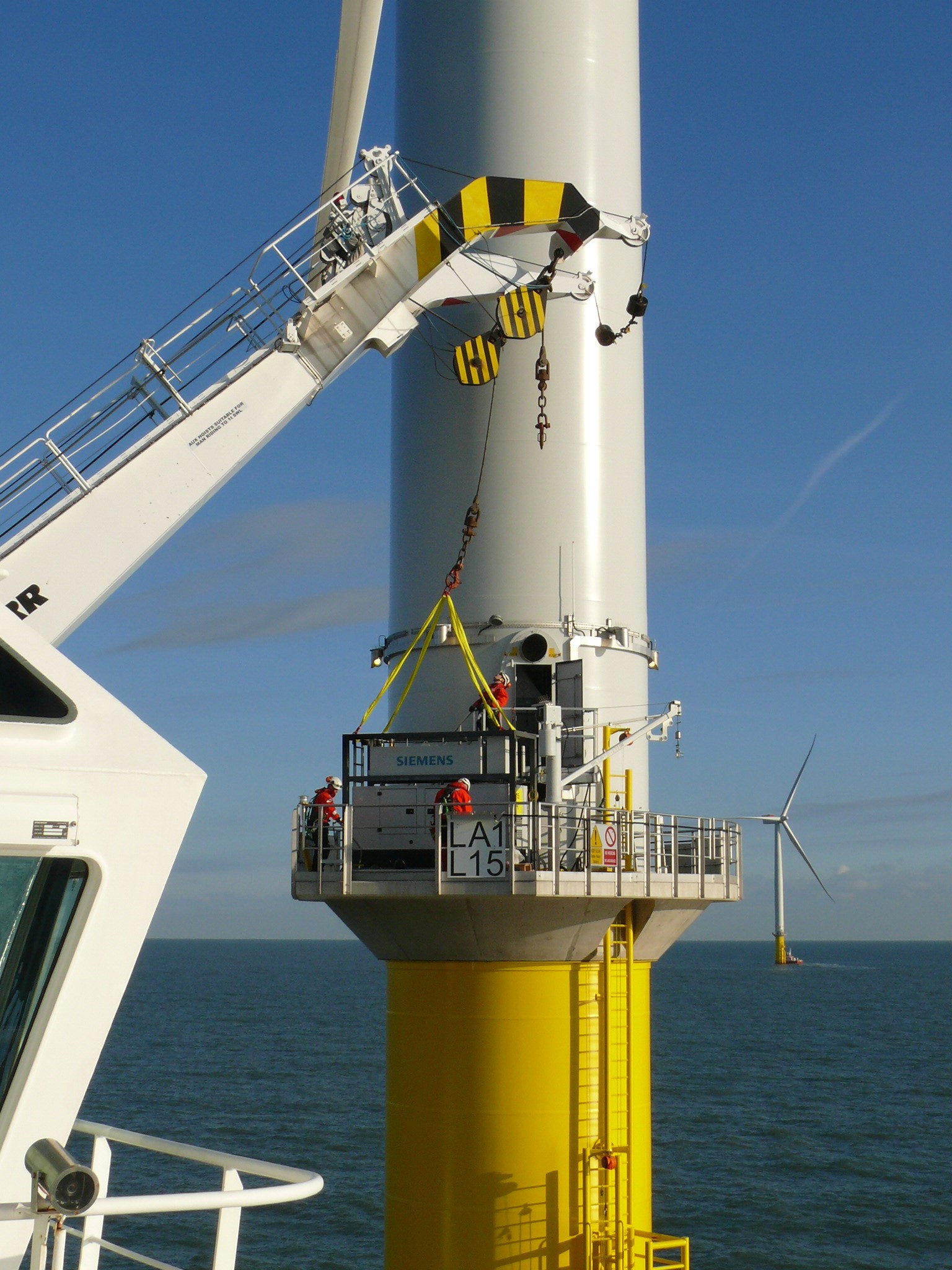 Generator lift taking place at London Array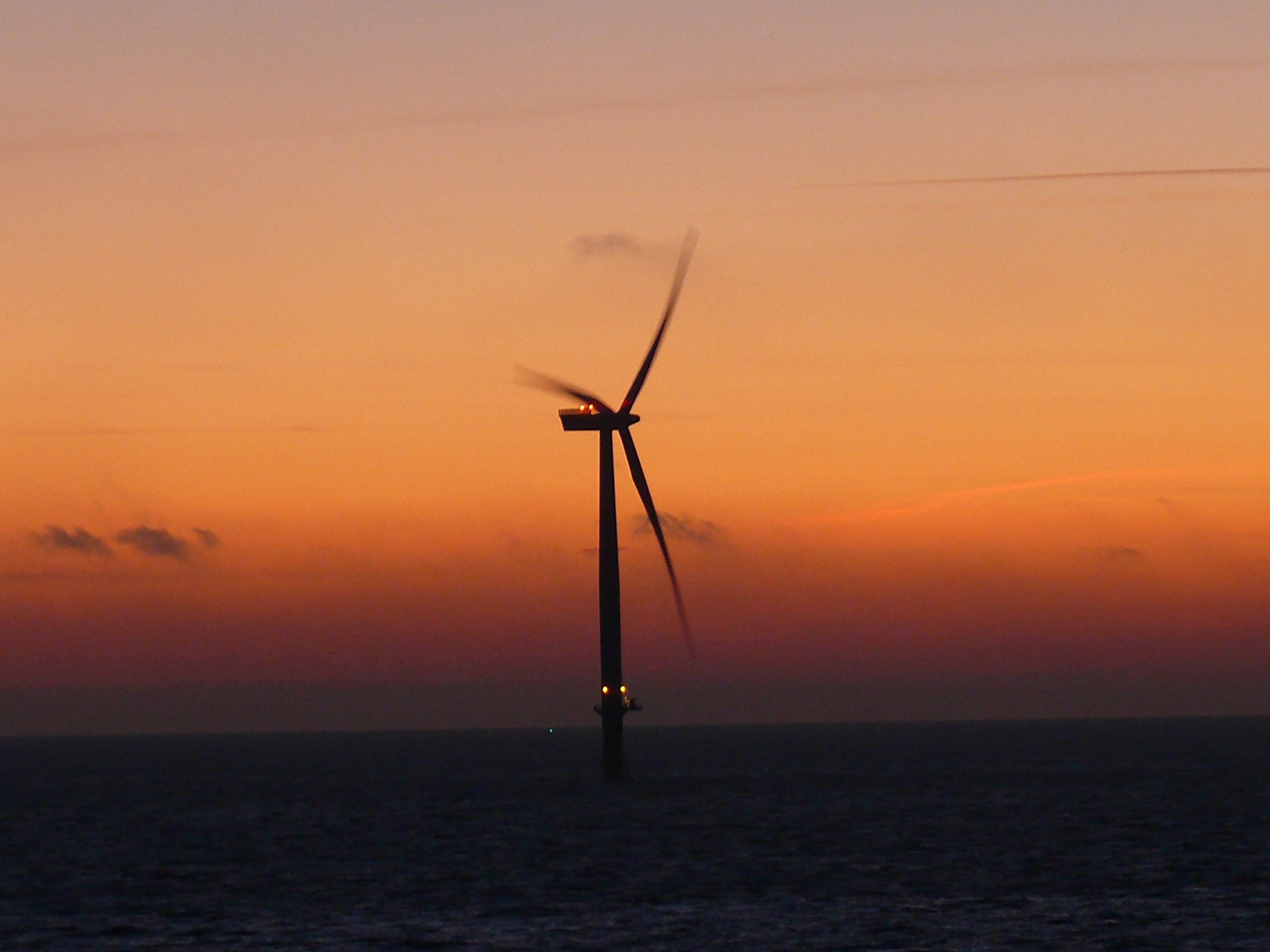 Work complete and heading home
For further information on any of our Commercial services, please contact commercial@trinityhouse.co.uk