This 7m offshore RIB can be deployed any where in the country at short notice.
It is utilised to carry out hydrographic surveys and light casualty work such as replacing lanterns, batteries and electronic equipment on navigation buoys.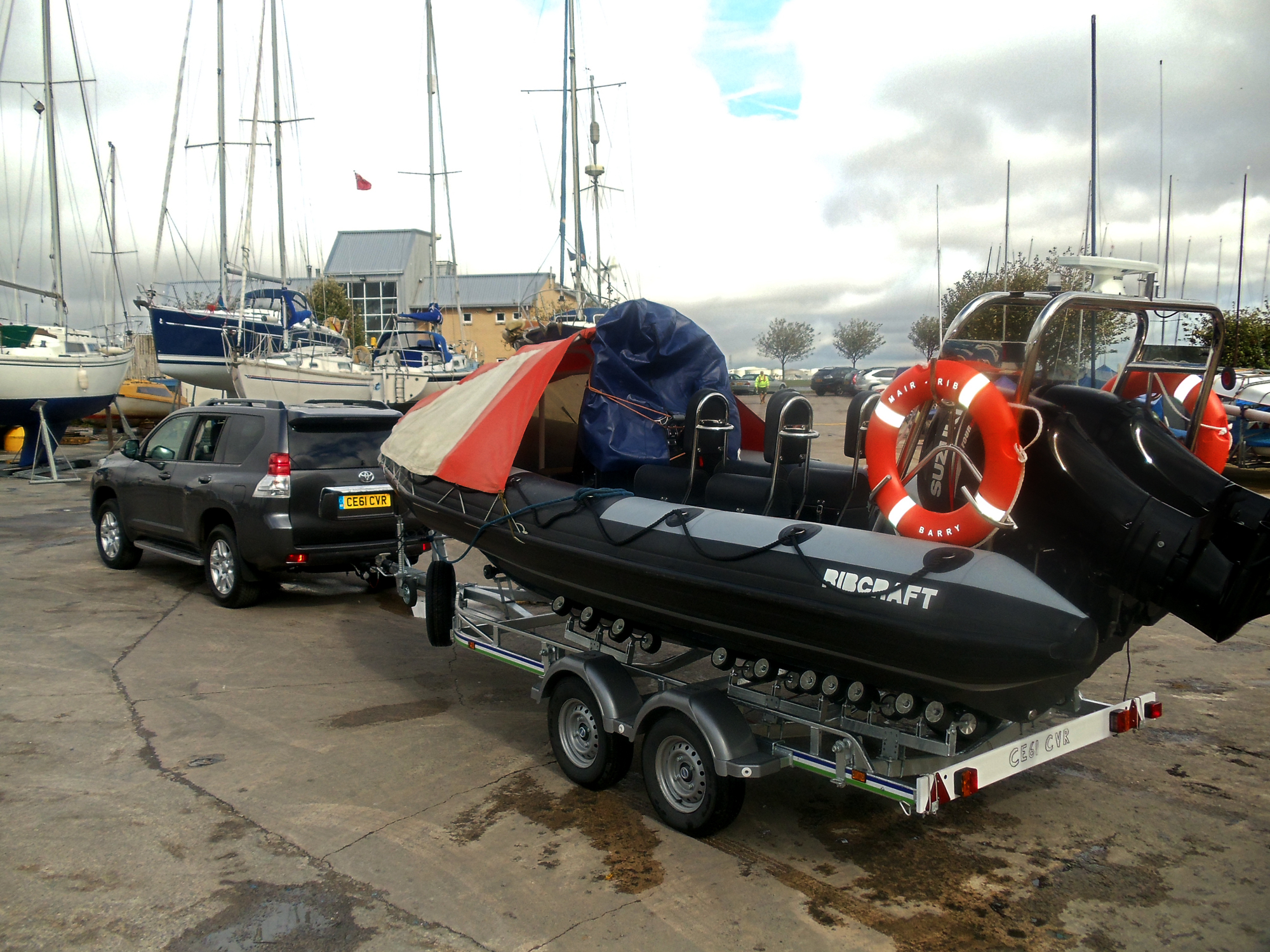 Offshore RIB and trailer
TECHNICAL SPECIFICATION
---
7 metres LOA
3-metre beam
Twin 90hp o/b motors
Max speed 38 knots
MCA Workboat code for 6 persons
20miles.
DGPS chart plotter
Echo sounder
Computer with Hypack survey package
Sidescan sonar
Structure scan sonar
VHF radios
Road/launching trailer
---
SURVEY EQUIPMENT DETAILS
DEPTH MEASUREMENT
Ceestar Survey Echo Sounder
200 kHz 8 degree beam width @ 3dB

Lowrance 50/200kHz echo sounder
Beamwidth 50 kHz 45° @-3dB 200 kHz 12° @-3dB

Fox-121 waterproof panel PC

Simrad DGPS chart plotter

Valeport Digital Sound Velocity Profiler
Range 1400 to 1600 m/s Resolution 0.001 m/s
Accuracy +/- 0.05 m/s Acoustic frequency 2.5 Mhz, single pulse

Transducer drafts calculated by bar check

Ceestar 200kHz – 0.55m

Lowrance 50kHz – 0.55m
POSITION FIXING
Simrad MX575B D/GPS Compass
Heading accuracy of 0.5°
Position updates up to 5 Hz Heading updates up to 10 Hz
Integrated DGPS sources including WAAS, EGNOS, and Beacon
Sub-meter DGPS accuracy
No offset required; DGPS antenna is positioned directly above transducers.
SURVEY SOFTWARE
SIDESCAN EQUIPMENT
Imagenex Sportscan
Dual Frequency – 330/800kHz
Transducer – 1 per side tilted down at 20°
Beamwidth 330 kHz 1.8°x 60° 800 kHz 0.7° x 30°
Lowrance Structure Scan
Dual Frequency 455kHz and 800kHz
Sonar Output Power Max WRMS: 500W, WPK: 4000W W
Sidescan Specifications
Max Range: 455kHz (500ft — 250/side) 800kHz (300ft —150/side)
Downscan Specifications
Max Depth: 100 ft (800kHz); 300 ft (455kHz)
---