Trinity House has appointed a new Director of Navigational Requirements following the retirement of Captain Roger Barker MNM FNI on 13 September 2020.
Roger joined Trinity House in July 2005 as Navigation (Examiner) Manager after a career in commercial shipping, a subject that he remains passionate about. He was promoted to Director of Navigational Requirements (DNR) in May 2009 and was sworn in as an Elder Brother of Trinity House at the same time.
As DNR he took on a wide range of duties and responsibilities in the service of the mariner. While governing Trinity House through both the Lighthouse Board and the Corporate Board, he also sat on the Executive Committee and the Examiners' Committee; any major decision made by Trinity House in the last decade will have benefitted from Roger's enthusiastic and sage input.
Roger is also a keen advocate and adopter of technology, and this was readily apparent in his assessment of potential hazards to navigation such as shipwrecks and other new dangers at sea, liaising with Trinity House's Planning Centre at all hours and consulting hydrographic surveys and charts overlaid with marine traffic analysis on his ever-present tablet.
Among other things, he also played a major part at IALA, being a leading voice on the Aids to Navigation Requirements and Management Committee, as well as being a frequent liaison with various maritime partners such as the UKHO and the MCA; he was also a Board member for the Trinity House Maritime Charity and Seafarers UK, these latter roles reflecting a lifelong passion for the wellbeing and education of mariners.
Roger will continue to be an important part of Trinity House despite retiring from his role as DNR. He will become the Nether Warden and will retain the role of Director of Deep Sea Pilotage for the next two years.
In November 2016, Roger was awarded the Merchant Navy Medal for Meritorious Service for services to the Merchant Navy; the medal was presented by HRH The Princess Royal at a ceremony in Trinity House.
Trinity House's Deputy Master Captain Ian McNaught thanked Roger for his service:
"Roger has always been diligent and enthusiastic in his role as Director of Navigational Requirements, but he has also been a great ambassador for us within the wider maritime community, for example at IALA, the MCA, the Chamber of Shipping and the UK Hydrographic Office; his contribution will be much missed by us all.
"Perhaps more importantly, Roger is unfailingly supportive and affable. He takes a great deal of pride in getting to know everyone personally and making time for them wherever possible. I know I speak for a great many people when I say we are glad that he will continue to be a regular presence at Trinity House."
Commander Nigel Hare RN joined Trinity House as the new DNR on 24 August.
Nigel joins Trinity House following a career in the Royal Navy that lasted over 30 years; his final two roles in the Royal Navy were as the Fleet Navigation and Seamanship Officer and then Queen's Harbourmaster in Portsmouth.
Having left in 2014, Nigel became Head of Maritime Professional Development at Warsash Maritime Academy before joining the Officers' Association, a tri-service military charity, where he has been the Grants and Welfare Director and Operations Director.
Nigel commented on his new role at Trinity House:
"Roger has made a very substantial contribution to the safety of mariners in our waters and as such he has played no small part in the prosperity of maritime Britain. I look forward enormously to stepping into his shoes, getting to know my new colleagues and carrying on with the important work we have to do."
Nigel will be sworn in as an Elder Brother later in the year.


---

NOTES TO EDITORS
Trinity House is a charity dedicated to safeguarding shipping and seafarers, providing education, support and welfare to the seafaring community with a statutory duty as a General Lighthouse Authority to deliver a reliable, efficient and cost-effective aids to navigation service for the benefit and safety of all mariners.
Please visit www.trinityhouse.co.uk for more information.


---

Contact
Trinity House:
Neil Jones, Public Relations and Records Manager
Email: neil.jones@trinityhouse.co.uk / Tel: +44 (0)1255 245155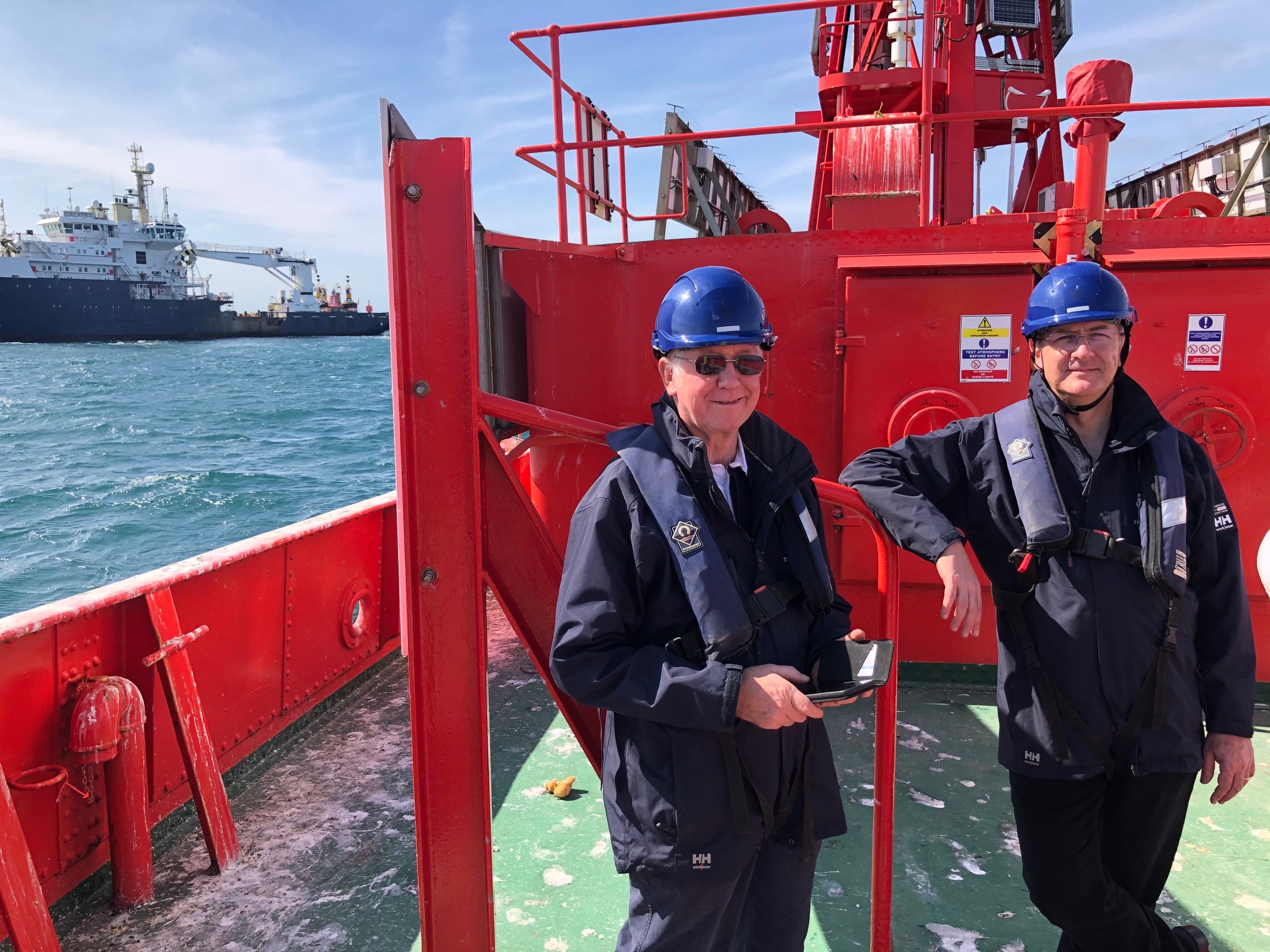 Captain Roger Barker (left) and Commander Nigel Hare