Trinity House welcomed The Rt Hon John Hayes CBE MP to its Harwich depot on 23 February 2017, visiting in his capacity as the Minister of State for Transport.
The visit served to familiarise the Minister with the functions and operations of Trinity House—specifically in its role as a General Lighthouse Authority—highlighting risk in UK waters and our ability to respond to that risk, as well as a close look at operational delivery and technological innovation.
With presentations by Trinity House executives and staff, Mr Hayes' visit also included the state-of-the-art Planning Centre from which Trinity House monitors and operates its marine aids to navigation.
Trinity House's Executive Chairman Captain Ian McNaught said:
"We are grateful to the Minister for this opportunity to demonstrate our role in maritime UK. As we continue to improve the way we operate, to identify efficiencies and meet our requirements as an aid to navigation provider, it is important to reiterate our position as a vital part of our island's maritime infrastructure, and that's what we have done today."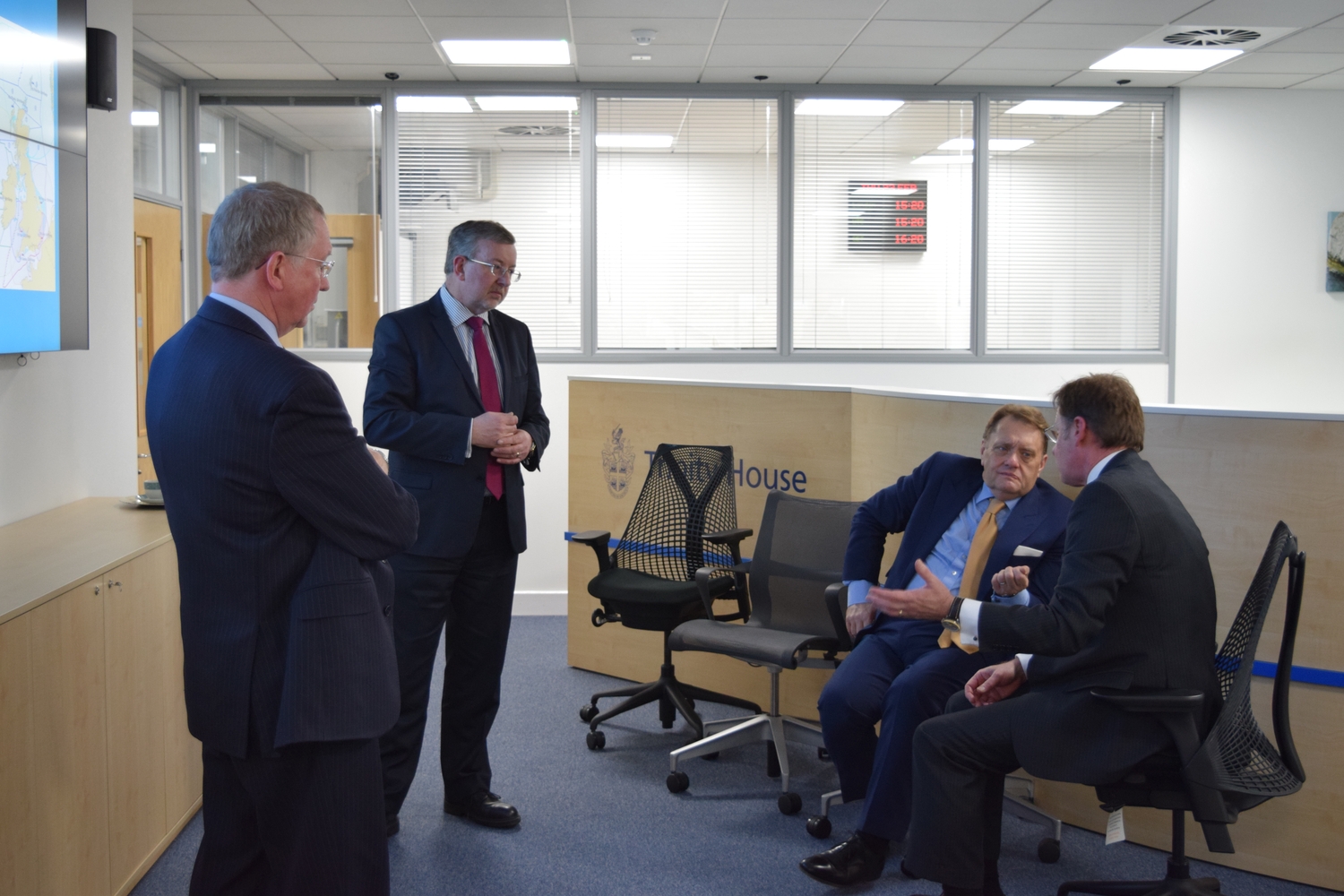 The Rt Hon John Hayes CBE MP in discussion with Trinity House Executive Chairman Captain Ian McNaught MNM and Directors Captain Roger Barker MNM and Commodore Rob Dorey

---
NOTES TO EDITORS
Trinity House is a charity dedicated to safeguarding shipping and seafarers, providing education, support and welfare to the seafaring community with a statutory duty as a General Lighthouse Authority to deliver a reliable, efficient and cost-effective aids to navigation service for the benefit and safety of all mariners.

The Corporation of Trinity House was incorporated by Royal Charter in 1514 to regulate pilotage on the River Thames and provide for aged mariners.
With a mandate that has expanded considerably since then, we are today the UK's largest-endowed maritime charity, the General Lighthouse Authority (GLA) for England, Wales, the Channel Islands and Gibraltar and a fraternity of men and women selected from across the nation's maritime sector.
Our long-standing familiarity with the channels, hazards, currents and markings of our coastline also qualify us to inspect and audit almost 11,000 local aids to navigation, license Deep Sea Pilots and provide Elder Brethren as Nautical Assessors to the Admiralty Court.
Per annum the charity donates around £4m to the charities we support. These include the provision of cadet training schemes, welfare provision for retired mariners and educational programmes teaching safety at sea skills.
Please visit www.trinityhouse.co.uk for more information.
For further information please contact:
Neil Jones, Public Relations and Records Manager

Tel: +44 (0)1255 245155 / Email: neil.jones@trinityhouse.co.uk