Before I start, I want to say a massive thank you to Trinity House for sponsoring my education and training whilst undergoing my Deck Officer cadetship; without the funding and continuous support I wouldn't be where I am today: a fully qualified Deck Officer. A massive thank you also to Chiltern Maritime, who have managed and organised all my training and ship appointments, as well as given me continuous feedback and advice in preparation for going to sea and my return to college.
Before enrolling into the Merchant Navy Scholarship Scheme with Trinity House, I attended the London Nautical School, based in Waterloo by the River Thames. The school was like many ordinary secondary schools in Lambeth, although it followed old maritime traditions such as a Naval school uniform and watersports activities, as well as a number of maritime courses. One of many amazing teachers was James Bullar MBE, Head of Nautical Studies; part of his role in the school was to teach and inform students about maritime careers.
As his student for six years, he taught me a lot about the watersports industry as well as careers at sea, and without him mentoring me and leading me in the right direction I wouldn't have known about the maritime industry—let alone Trinity House—and what opportunities there are outside of the classroom.
I started my cadetship in September 2015 at Fleetwood Nautical College, enrolling into the HNC/HND route course. At first I was a little bit anxious about leaving home and moving across to the other side of the country, but that didn't last long. I soon settled in and made some amazing friends who I'm still close to now. We started with a Level 3 BTEC in maritime studies, which was a really good introduction into the maritime industry and preparation for going to sea for the first time. As well us taking the Basic STCW [Standards for Training, Certification, and Watchkeeping] courses which included Basic Firefighting, Sea Survival and First Aid at Sea. We also did an Intro course for EDH [Efficient Deck Hand] and PSCRB [Proficiency in Survival Craft & Rescue Boats] where we learned basic seamanship and boat handling skills.
My first ship was Ardmore Defender, a chemical tanker. As it was my first ship I was very nervous especially as I had to fly out all the way to Panama to join; to make it worse, we had to join the ship late at night whilst still underway, making its way to the Pacific anchorage, which meant we had to climb on board the crew transfer boat and board via the pilot ladder. I really didn't like this at all, but then realised that I had no choice but to just face my fears of heights and just get on with it. Fortunately I was lucky enough to be joining with one of my best mates Jack, who really helped me get over this as well as support me through the whole sea trip.
What an amazing trip: we sailed through the Panama Canal to the States then back to South America where we did a round trip of the continent, passing through the Magellan Straits of Chile. I had learnt a lot about cargo operations and watchkeeping on the bridge. But the thing I learned the most on this trip was how to deal with having many different nationalities working in a confined space, where we all have our own opinions and ideas, as well as different ways of thinking. Most importantly I learned what life at sea was like and how I dealt with it.
My second sea trip was on board the HMC Valiant, a UK Border Force vessel which operated in the English Channel and Dover Strait. What a change this was, it being much smaller than the chemical tanker I was just on, being only 44 metres. I was shocked when I saw it at Ramsgate. I was fortunate to be on with some amazing crew who really helped gain my confidence with shipboard operations and bridge watchkeeping. As we were operating in some of the busiest waterways in the world—the English Channel and the Dover Straits—and the Thames, I gained some amazing bridge watch skills and I obtained my steering certificate. Of course the purpose of the vessel was to protect the UK border from foreign-going vessels and to deal with the possibility of migrants crossing from mainland Europe.
We were involved in an incident where we had to rescue a boat full of migrants crossing the Channel, who had gotten into difficulties as some of them were in the water. I was asked to help secure the boat and prepare lifesaving appliances on board so that they were on standby when we rescued the migrants. I was asked by the Captain to take the helm whilst the crew launched the RIB and assisted the migrants with getting on board. I helped take the ship back to Dover where the migrants were taken ashore by the Border Agency.
Because of this, the Captain wrote a letter to Chiltern commending me on my assistance with the operation which led me to receive a Certificate of Commendation from Trinity House.
This was an amazing opportunity to speak to many other members of the maritime community as well as members of Trinity House in their London headquarters.
Back to college for Phase 3 of my training. This was where I studied for my HNC in Nautical Science, which had a mixture of subjects which included Ship Stability, Cargo Operations, bridge watchkeeping, chartwork and many other subjects. I also had taken additional short courses such as Advanced Firefighting, Medical First aid and GMDSS [Global Maritime Distress and Safety System].
When I finished Phase 3 I went back to sea, and my third ship was SV Tenacious which is a tall ship operated by the charity Jubilee Sailing Trust. This was by far the best trip I have been on as part of my cadetship, and would recommend anyone to have a look and try to get onboard. Before I joined the ship, I luckily already knew about the ship as I sailed onboard in 2014 as part of a Leadership at Sea Program the Jubilee Sailing Trust offers and they also gave me a full bursary to join the vessel, which was amazing. Already knowing the ship, I fitted in really well and got involved with all aspects of the ship's daily routine.
The highlight of the trip was the voyage from Melbourne to Wellington in New Zealand. This trip took a couple of weeks, but it was so fun. We encountered some very rough seas and storms whilst heading to New Zealand. With the vessel being manned by both able-bodied and voyage crew with disabilities we all had to chip in and make sure everyone was involved.
As part of this trip we had to visit a Dry Dock in Littleton in New Zealand which I thought was a great opportunity to see the ship out of the water and get involved with the dry docking operations.
My fourth ship was B-Gas Maud which was a gas tanker. They only operated in Europe trading propane. As I knew this was my penultimate trip, I informed the Captain and the other officers who gave me more pressure and more responsibilities and to get more involved with operations such as leading an anchoring team, mooring station and being team leader for fire and emergency drills in preparation for my oral exams in the future. This was a great way to practice before I have to do it by myself in the nearby future and I'm so happy that the Captain gave me these opportunities.
My last trip at sea was onboard the Windstar vessel Star Legend, a cruise ship.
We visited some absolutely amazing places, beautiful countries in Asia such as the Philippines, Thailand, Vietnam, China and many other amazing countries.
Like my previous trip I informed the Captain and my officers that this was my final trip before my orals and I really wanted to practice the role of a Deck Officer as much as I could and get involved with as many shipboard operations as I could.
All the officers really helped me out and challenged me every day; I also got the opportunity to get involved with the tendering operations and watersports team. Tendering was my favourite operation that I got involved with as I really enjoyed it. The best thing about this trip were the places we visited, and when I got an opportunity to go ashore I visited some amazing places.
When I returned home and got back to College I knew that I would have to work extra hard for the next couple of months in preparation for the written SQA OOW [Officer of the watch] exams and oral exam in Liverpool. Before I took my final exams, we had our Graduation Ceremony in Fleetwood and—by surprise—I was awarded best Graduating Cadet for the HNC Deck class. I was awarded this by Captain Ian McNaught, Deputy Master of Trinity House.
This was the best day of my cadetship, and I'm never going to forget how special the day was.
I was happy to also find out that I had passed my SQA written exams and then went on to pass my MCA Oral exam a couple of weeks later on that month.
I am now back enrolled at Fleetwood Nautical College, where I'm am studying a HND in Nautical which takes my education up to Mates and Masters level. I am finding it a bit more tricky than before, however it pushes me to focus more and aim for the best possible grades.
All in all, I have been on a massive rollercoaster over the last three years and I have grown so much as a person. I can't wait to go back to sea and be in charge of my own Bridge watch and to help other cadets through their journey.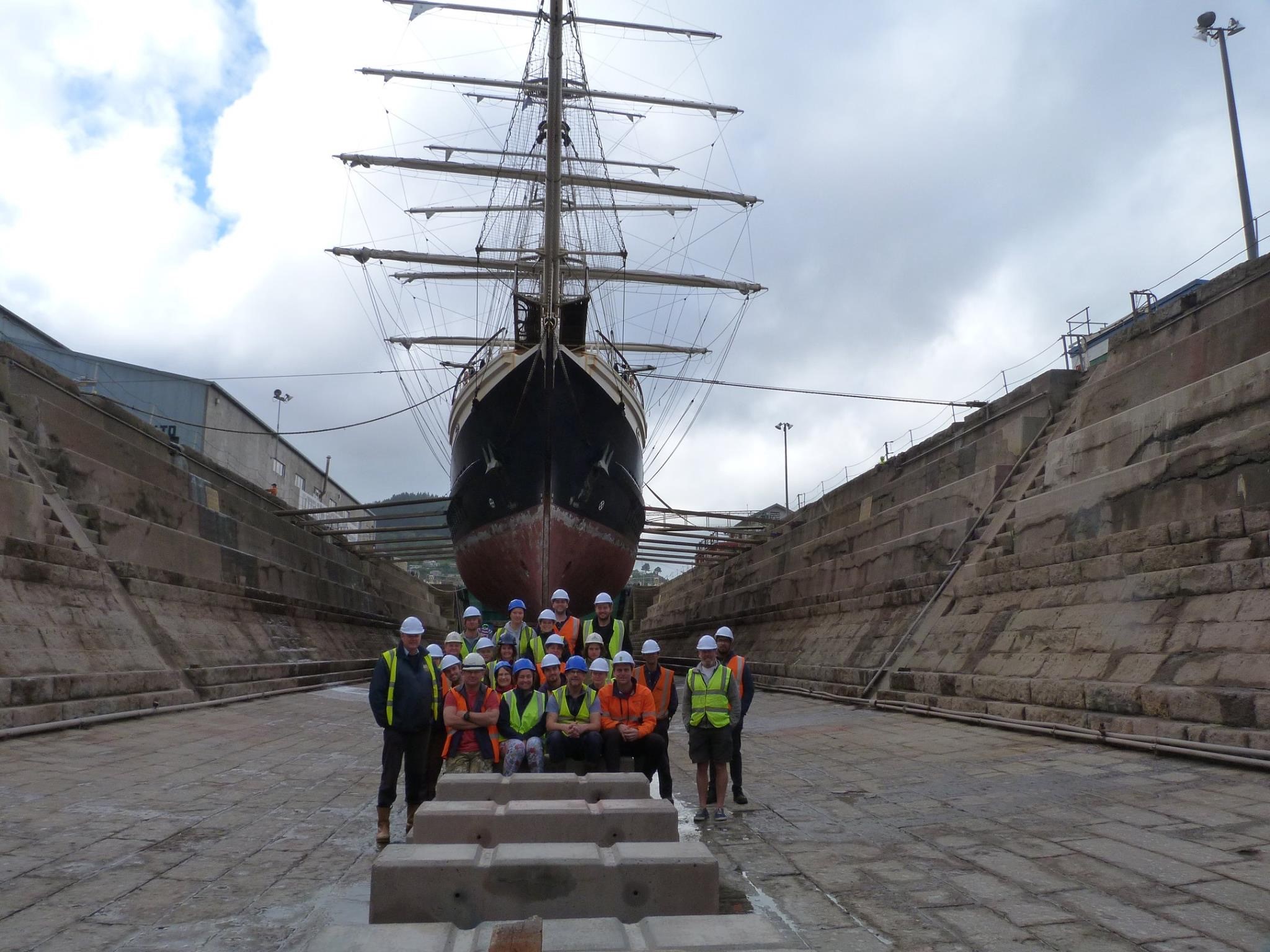 Above: As part of the Leadership at Sea programme, Adam had the opportunity to visit a drydock in Littleton in New Zealand
---

This article originally appeared in the spring 2019 edition of Flash