Lightvessel 06 Batteries
Trinity House has 5 lots each consisting of 12 Lightvessel 06 battery cells that are surplus to requirements and are offering them for sale (being sold in separate lots).
The Cells will be sold with their copper wire links and copper bus bar. The links allows the 2V Cells to be made up into a Battery of 12 Cells to make 24V. The Cells each come with a sleeve with eyelets, no lifting certs will be provided, lift at own risk after a competent person has inspected under Loler.
Weight: 120Kg each cell. Dimensions: H800 x W212 x L277
Quantity: 5 Lots each consisting of 12 Cells being sold in separate lots
Serial number: 5 OPzV 1500
Manufacturer: Sonnenschein
Item Location: Harwich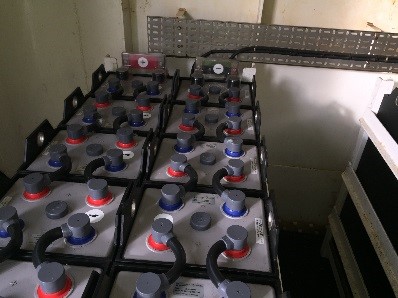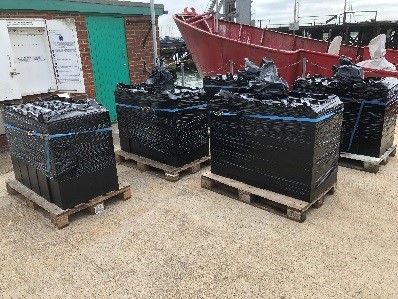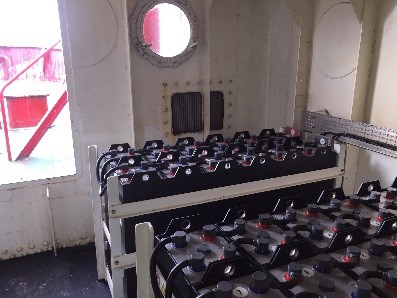 Buyer shall collect at a pre arranged date and time and adhere to all regulations to transport these batteries. Trinity House will take no responsibility for securing the loads.
No responsibility will be taken to secure the load for transport. The cells will be placed on pallets as per photograph. The ratchet straps will not be sold with the load and buyer or buyers representative must provide own methods to secure the loads. The pallets can go with the load once buyer has inspected their suitability. Trinity House will assist any loading onto a vehicle with a forklift truck under directions from the buyer or buyers representative.
The Cells were new as of 08/2013 when they first went into service. They have been continually float charged by a solar system on one of our Lightvessels at sea. They were disconnected on June 20th 2019.
It is advised that, where possible, items are viewed prior to submitting your bid. Unless otherwise specified, viewing can be arranged by contacting a member of the Commercial Department on 01255 245156. Delivery of this item is not available.
If you are interested in bidding your bid must be submitted by email to eSales.User@trinityhouse.co.uk by 17:00 on 9th August 2019.
All bids should be exclusive of VAT, which will then be added on at the appropriate rate. Please include the full item description of the item you are bidding on in the subject box of the email making it clear how many 'lots' you are bidding for and price per 'lot'
If you have any questions regarding any of these items, please email them to Commercial@trinityhouse.co.uk as the Sales inbox will not be checked until after bidding closes.
After the closing date, you will be informed by email whether you have been successful, at which time we will arrange for payment to be made. Please note that full cleared payment will need to be made before items can be collected and within 28 days of notification of the successful bid.
Trinity House are not obliged to sell the items to the highest bidder or any bidder.