Blue Armchair
Grey striped armchair, previously used in lighthouse cottage
This large grey striped armchair, was originally used in one of the bedrooms in our lighthouse cottages at North Foreland. As this item is used, it does show some signs of wear.
Approximate dimensions: H93cm W95cm D103cm
Please note the cushion in the picture below is not included.
This item is located at Trinity House, Harwich Depot.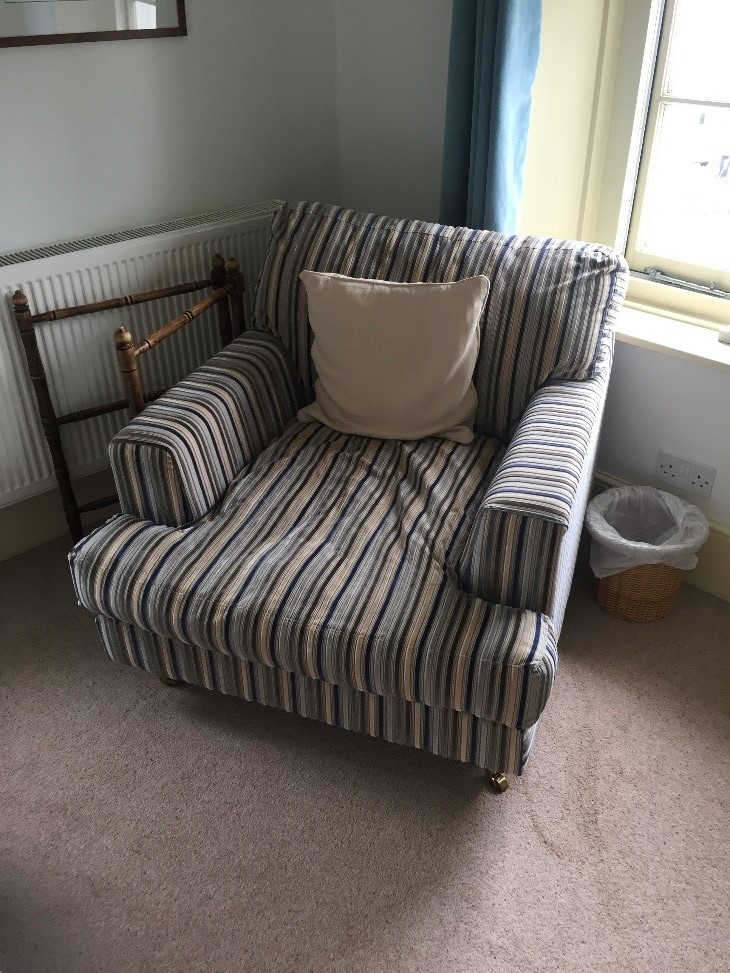 ---
It is advised that any items being bid on, if possible, are viewed prior to submitting your bid. Unless otherwise specified, viewing can be arranged by contacting a member of the Commercial Department on 01255 245156. Each item listed also states its collection location – delivery or postage of these items is not available.

If you are interested in bidding for this item, your bid will need to be submitted by email to eSales.User@trinityhouse.co.uk by:
17:00hrs on 15th March 2018
All bids should be exclusive of VAT, which will then be added on at the appropriate rate. Please include the full item description in the subject box of the email.
If you have any questions regarding this item, please email: Commercial@trinityhouse.co.uk as the eSales inbox will not be checked until after bidding closes.
After the closing date, you will be informed by email whether you have been successful, at which time we will arrange for payment to be made. Please note that full cleared payment will need to be made before items can be collected and within 28 days of notification of the successful bid.
Trinity House are not obliged to sell the items to the highest or any bidder.